MVPTMS offers outpatient TMS treatment for patients referred by local Physicians. All treatments are performed under the supervision of Zahida Tayyib M.D. This page offers a quick review of TMS for refering physicians. If you are considering referring a patient suffering from treatment resistant depression for a Deep TMS treatment and would like to review additional studies or academic journal articles on dTMS please check the small collection of TMS papers available on this site. A brief presentation summarizing the medical aspects of the TMS can be found here.
Patients who are referred for dTMS, continue their relationships with referring clinicians during and after the completion of the treatment. During the treatment all decisions regarding medication management and treatment are made in conjunction with the referring physician or healthcare provider. Zahida Tayyib, M.D. will provide weekly updates on patient progress. Upon completion of dTMS, patients return for follow up care with their referring physician or healthcare provider. We are capable to share data through HIPAA compliant Electronic Medical Records system.
Why should I refer my patients for Deep TMS?
Dr. Tayyib has been treating patients using TMS since 2011. She has internal medicine training as well as ob-gyn experience of delivering over 1000 babies. She added TMS to her practice to offer an effective treatment alternative.
Unsatisfactory response rates and side effects of anti-depressants may encourage some patients to neglect their medication regimes. It is also known that highly successful Electro Convulsive Therapy (ECT), require anesthesia and involve significant risks and side effects that may impact the choice of treatment by a patient. These considerations sharply reduces options for patients with treatment resistant depression who are left with no acceptable treatment alternatives.
Brainsway's novel Deep TMS technology (derived and expanded from the original NIH patents) holds a variety of benefits for patients with depression. It non-invasively and without hospitalization stimulates of deep brain regions. Typically, over 4 weeks, patients attend 20 brief 20-minute daily treatment sessions. Patient can drive after a session. Additional treatments that may be prescribed by Dr. Tayyib based on individual patient outcomes.
In conjunction to dTMS, we offer group and individual therapies. These therapies are highly effective in cases of depression that often include social isolation, cognitive biases and a need for behavioral activation.
Brainsway dTMS is being studied for over 40 indications worldwide. It received CE approval in Europe min the following indications:
Major Depressive Disorder
Bipolar Depression
PTSD
Neuropathic pain
Negative Symptoms in Schizophrenia
Alzheimer's disease
Autism
Smoking Cessation
The Brainsway dTMS has been approved by the Food and Drug Administration (FDA) for the treatment of Major Depressive Disorder in patients who failed to achieve satisfactory improvement with:
2 SSRI
2 SNRI
2 adjuncts or mood stabilizers
TMS studies have increased our understanding of brain function. Patients with depression often show hypoactivity in the left dorsolateral prefrontal cortex (cases of hypoactivity in the right dorsolateral prefrontal cortex have also been reported). it is also known that deeper brain structures including the limbic system has also been associated with major depressive disorder. Brainsway dTMS coil is able to stimulate areas within the left dorsolateral prefrontal cortex. The effectiveness of dTMS may also a result of dTMS stimulation of deeper areas of the brain, which are implicated in motivation and emotion regulation. An increase of brain derived neurotrophic factor (BDNF), a protein which helps protect existing neurons and encourages the growth of new neurons, has been reported as a result of TMS.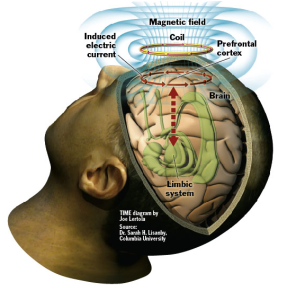 The FDA and the CE approved Brainsway for the treatment of Depression in all categories of patients who did not benefit from previous medication treatment. The FDA approval is based on a unique long-term 16-week Double-Blind Placebo-Controlled Multi- Center study which rolled over 230 subjects, showing a substantial declines in HDRS-21 and remission (32.6%) and response (38.4%) rates. In the study, dTMS treatment was proven to be safe and well tolerated by the majority of the study subjects with no severe adverse effects.
dTMS is an Alternative for Patients Unable to Tolerate Antidepressant Medications
In a large scale, multi-center trial, Deep TMS was shown to be a safe and effective treatment for patients who have not been able to tolerate two or more antidepressant medications.
Long Term Effects of TMS
Long-term effects of repetitive TMS have been associated with neuroplasticity. The procedure is relatively new and statistics are being collected. In our practice we have seen the effects lasting from 9 months to two years. It is important to inform the patient that the treatment consists also the "booster" sessions. A number of these sessions is given after the initial treatment. Insurances often approve 20 booster treatments and more if needed..
TMS has been in the lab to see the impact of brain connectivity on subject performance. In one of the studies (paper can be found here) patients artistic skills were temporarily modified using TMS. In this experiment patients were shown pictures of people's faces and then were asked to draw them from memory 15 minutes and 45 minutes after the TMS sssion. Results show more complex images were drawn after TMS. With the effect diminishing over time.
TMS Treatment for Depression and Comorbid Substance Dependence
Many of patients with co-occurring or remitted addiction are experiencing depression and dTMS may be an appropriate option for them. Statistics provided by NIH (The Epidemiologic Catchment Area study) indicated that almost one-third of individuals with depression had a co-existing substance use disorder at some point in their lives. The National Co-morbidity Study reported that men with alcohol dependence had rates of depression three times higher than the general population; alcohol dependent women had four times the rates of depression.
Patients with a history of chemical dependency may prefer and benefit from non-pharmacological treatments. Deep TMS is non-systemic, does not require the use of any anesthetics, and while many patients continue to take antidepressant medication during treatment, patients are not required to take medication to receive treatment. Research indicates that Deep TMS can be an effective smoking cessation treatment, and is currently being studied as a treatment for cocaine addiction.
Deep TMS for Mothers
Depression is often a concern for women. Practitioners and patients are often concerned about the effect of taking antidepressant medication during pregnancy or breastfeeding. Pregnancy is a period of systemic stress for a woman and depression may be one of the symptoms. 10-15% of women experience postpartum depression within the first year after the birth of a child. A non-invasive dTMS treatment does not require sedation or any medication contraindicated during fertility treatment or breastfeeding and may offer a viable alternative.
dTMS for metal implant (Pacemakers; shunts; metals in face, neck or head)
Metal in the head and neck area are typically counter indication for the TMS. Small dental works are acceptable.Please contact Dr. Tayyib to review the case.
Payments for dTMS Treatment
Most insurances with exception of Medicare of California provide coverage for TMS. Please contact our office for the insurance specific information.
Whats the difference between coils in TMS?
Pioneers of TMS used what is known is 8-coil which is easy to operate in the lab, offers good control of the focus spot of magnetic field, operates at low depth and great flexibility. With the progress of technology coils of more complex geometry were designed offering deeper penetration and more energy. Brainsway coil used in our practice has been specially designed for the treatment of depression. Both coils are currently in use in clinical practice.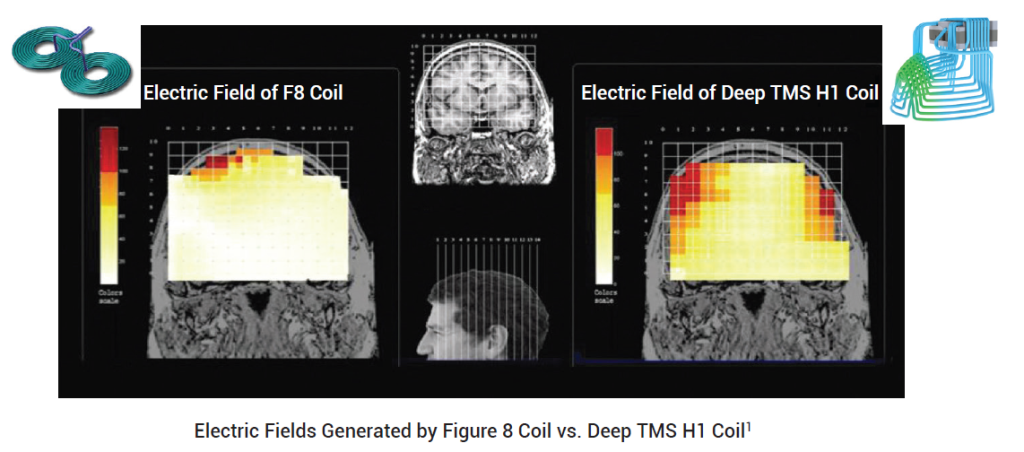 In our site, we use term TMS when description refers to the large class of devices relying on transcranial magnetic stimulation. Term deep TMS is used when action is a key feature of Brainsway system.
Additional material and references
Summary of TMS related information (can be printed for future reference)
(return to the Main Section)